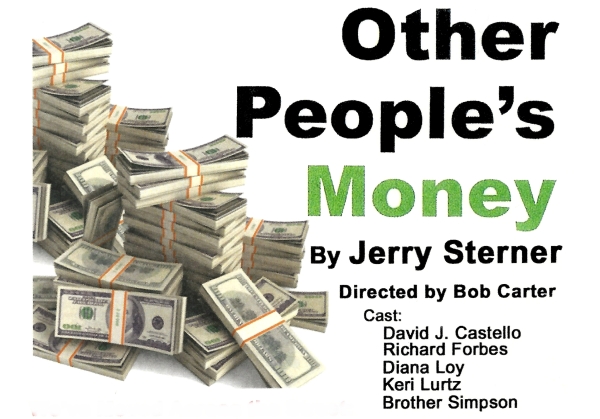 Life is what happens to you when you're making other plans.
John Lennon
A friend of mine was taking classes at Bob Carter's Actor's Workshop & Repertory Company in West Palm Beach. She needed a ride to Bob Carter's home in Lake Worth so she could choose a monologue from his personal collection of over 5,000. I drove her there and offered to wait outside, but she insisted I come inside to meet Bob.
I entered to see a massive home screening theater that held at least forty seats. Bob was on his phone, but seemed to take curious notice of me the moment I walked through the door. He had an impressive collection of shelved books about south Florida history and I walked straight towards them while my friend began sifting through a mountain of monologues.
After a few minutes, I walked over to Bob, introduced myself and told him how much I enjoyed his south Florida historical book collection. He smiled and said, "Have you ever acted?"
My first impression was that he was trying to persuade me to take acting lessons. I told him that, when I lived in Manhattan, I had studied at HB Studio and the British-American Academy. However, I never pursued acting. Back then, music was my priority and I was the drummer in a rock band with my brother, Michael. As recently as 2016, I was touring the U.K. with the Nashville-based band, BREE.
Bob then told me that the lead in their upcoming play at Actor's Rep, Other People's Money, had left and he felt I would be perfect for the part. A recent casting call had produced no results and they were literally going to cancel the play within the hour after four weeks of rehearsals.
It would be an understatement to say I was taken aback, but then Bob said, "You would really be helping the community if you did this."
I agreed to take the part and went home with the script. Bob wanted me to play the lead, corporate raider Larry Garfinkle. Garfinkle was from the Bronx, as was I. When I lived in Manhattan, I knew a lot of Garfinkles who worked down on Wall Street. I knew I could play the character, but I had only two weeks to learn fifty pages of dialogue.
I began rehearsing Other People's Money with the cast at the Bhetty Waldron Theater in downtown West Palm Beach and within a week I'd felt I'd made a huge mistake. There was too much to memorize and too little time to do it, but I pushed onward for two reasons: I'd never quit anything in my life, and I didn't want to let my fellow cast members and Bob down. I was memorizing lines all through the dress rehearsals right up until opening night.
I pulled it off, received a ton of praise and I will freely admit that it is the hardest thing I've ever done. The experience took me miles outside of my comfort zone and, in my book, that's always a good thing.
On another note, Bob has already cast me in his next play, The Exonerated.
Until we meet again,
David