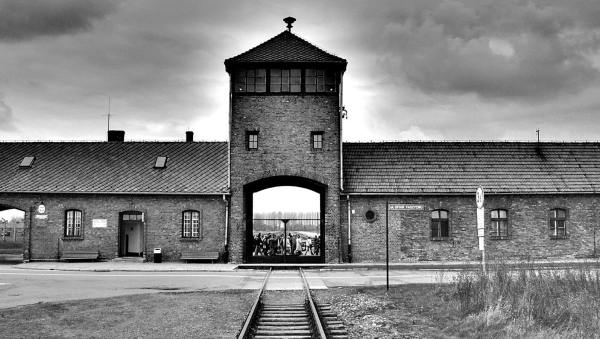 Holocaust Remembrance Day fell on April 12th this year. The Holocaust played a pivotal role in both of my novels, The Diary of an Immortal (1945-1959) and The Crow and the Chrysalis.
In The Diary of an Immortal (1945-1959), a twenty-one-year-old U.S. Army medic discovers an immortality formula, designed for Adolph Hitler, during the liberation of the Dachau concentration camp in Germany. In The Crow and the Chrysalis, female Roma twins are subjected to horrific experimentation by Dr. Josef Mengele in the Auschwitz extermination camp in Poland.
I've long been a student of World War Two, but none of that conflict left as much of an impression on me as the Holocaust. How could any 20th century country systematically murder millions of men, women and children of the Jewish religion in the most terrible ways possible and justify it? The Japanese were equally as brutal during the Rape of Nanking, but Japanese atrocities there and during the Bataan Death March were directed at enemy combatants and civilians by sadistic commanders. One could make the argument that the human experiments at Unit 731 in China were sanctioned and supported by the Japanese government (they were), but they seemed more the exception than the rule. Conversely, the Holocaust had the absolute blessing of the Nazi state. And this was not some backwater country. At the time, Germany was the most technologically advanced nation on the planet.
I have never found a satisfactory reason for Nazi Germany's descent into the abyss. There were economic reasons. There was nationalism. And some believe there were dark supernatural forces at work. Perhaps it was a perfect storm of all three. Regardless, until we fully understand how and why intelligent, rational people could behave in such a barbaric manner without it affecting their conscience, it means only one thing.
It could happen again.
David